How to Easily Make a Target List of Customers to Contact With Your Own Data
Using behavioral data to accelerate time to revenue
Lead lists are so 2020.
With Predictive Opportunity Analytics, your sales team can have hyper targeted lists with little to no effort from sales and marketing.
The Predictive Opportunity Score takes the following behaviors into account to help the sales team be more efficient based on an account or opportunity's probability of becoming a customer:
Time Trends: days active via email, days since first qualified action, days between first and last qualified action …
Volume of Activity: number of campaigns, number of channels, number of emails opened, …
Marketing Behaviors: lead source close rate, unique activities interacted with, opps won by lead source, …
Sales Behaviors: calls, follow ups, linkedin messages …
Related Results: last year close rate, number of lead sources, last 90 day close rate …
Where do you start?
It literally is the click of a button.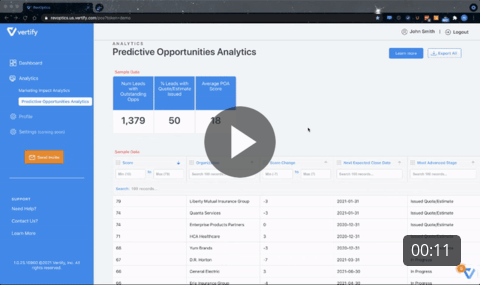 Check out this video: https://share.vidyard.com/watch/Nu9f2yncQdJVggrqkQ56qD?
The data is combined from your existing CRM and Marketing Automation instances
Why?
It's fast and super easy.
It's using your existing data so the opportunities have high intent (Much better than cold calling when you're not sure if the desire or even awareness is there).
It's at an extreme value. Higher return than buying a lead list.
Just ask your Marketing Team, RevOps Manager or Sales Leadership to email you the list from RevOptics. You'll have it in your inbox in seconds.
I have a list of accounts. What now?
First, these are all existing accounts and should be assigned to you automatically.
There's basically two options:
Sort your list based on Score (Of course scores closer to 100 have a higher probability of becoming customers). Our research suggests to focus on accounts with at least a score of 70.
Or go straight to the Next Action, which is RevOptics's ability to prescribe what to do next based on analysis of tens of thousands of customer behaviors. Following the Action along with the Next Action Timing will increase your probability of moving the account closer to Closed/Won!
Now it's easier to do your part to contribute to a healthy forecast that combines your experience and actual data and close more deals faster!